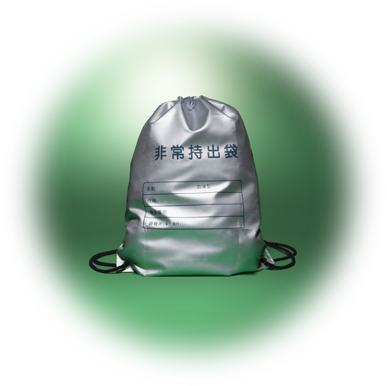 In the wake of a disaster,
oral care affects not just the health of your mouth,
but also the health of the rest of your body.
If you are unable to keep your mouth clean
when living in an evacuation center or in the midst of a water shortage,
the bacteria in your mouth may adversely affect the rest of your body.
You must take particular care if you are elderly,
and therefore more at risk of contracting pneumonia.


Oral care is important in the wake of a disaster.
Editorial supervision: Ryohei Adachi, Department of Dental Health, Faculty of Junior College, Kobe Tokiwa University
Brush your teeth
to prevent pneumonia.
The mouth is the entrance to the lungs. When oral hygiene can't be maintained when living in an evacuation site or when water is scarce, seniors become more prone to aspiration pneumonia, so care is needed.
After the 1995 Great Hanshin earthquake, over 200 people died of pneumonia caused indirectly by the quake. We suspect that aspiration pneumonia was also common.
Dirty false teeth are thought to heighten the risk of contracting pneumonia.
Cleaning false teeth is also important for maintaining oral hygiene. Whenever possible, false teeth should be removed and cleaned after eating.
Remove false teeth at night before sleeping.
Oral care is effective for preventing influenza.
Take steps to prevent periodontal disease to control blood sugar levels.
Tooth decay in children increases when the number of between-meal snacks rises and conditions preventing adequate tooth-brushing persist for an extended period.
How to ensure good oral care in the wake of a disaster
Oral care
without a toothbrush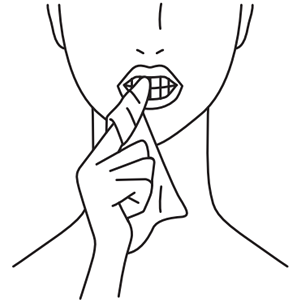 When living in an evacuation shelter or other situation without access to toothbrushes, gargle thoroughly after eating with about 30 ml of water or tea.
Cleaning teeth by wiping them with a handkerchief or tissue wrapped around a finger is also effective.
Stimulating saliva production is also important.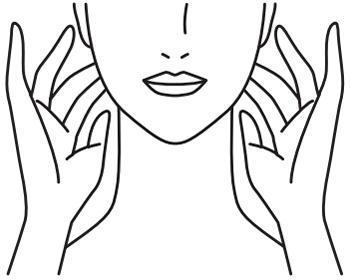 Saliva acts to wash away dirt in the mouth. Stay hydrated as much as possible, and stimulate ample saliva production by massaging or warming the base of the jaw (directly below the ear).
Chewing gum is also a good way to stimulate saliva production.
Brushing your teeth when water is scarce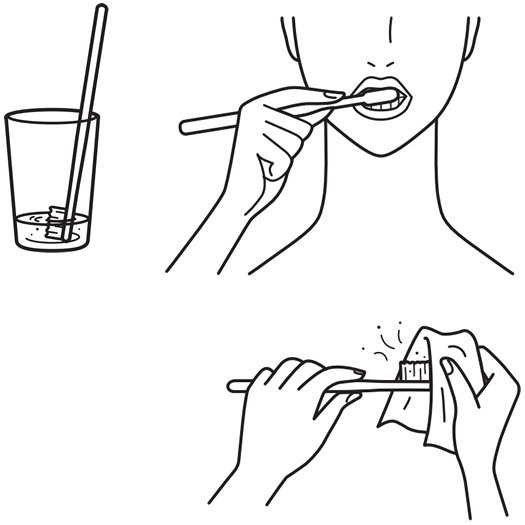 Pour about 30 ml(1fl oz.) of water into a cup.
Wet a toothbrush in the water,
then insert it into the mouth and start brushing the teeth.
The toothbrush will gradually become dirty,
so wipe it off with a tissue (or wet wipe if available)
as much as possible. Continue brushing,
cleaning the brush repeatedly whenever needed.
Finally, rinse with the water in the cup two or three times.
Dividing the water into two or three rinses will clean better than taking it all into the mouth at once.
Using gargled medications or mouthwash is effective
when they are available.
*

Cleaning the mouth efficiently with little water
Adapted and modified from
www.oralcare-jp.org/pdf/minimum_water.pdf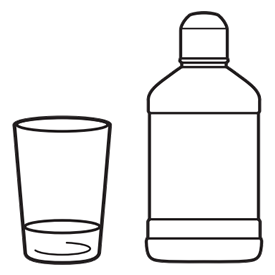 Because Dental Rinse is liquid,
it reaches all the nooks and crannies of your mouth,
facilitating good oral care in the wake of a disaster.
Things you need to know about oral care
Q&A about Dental Rinse
How do I use Dental Rinse?

Dental Rinse can be used as an alternative to conventional toothpaste in paste form. Take an appropriate amount (about 10 ml) into the mouth, rinse around the mouth with it for about 20 seconds, then brush. After a disaster or in other situations when water is scarce, using Dental Rinse with an antibacterial ingredient can reduce germs in the mouth.

Do I need to rinse my mouth out with water afterward?

There is no need to rinse with water. If the product has an unpleasant aftertaste, a brief rinse with water is OK.

Does Dental Rinse have a use-by date?

Unopened Dental Rinse stored under normal conditions is designed and produced to last for about three years after its manufacture date with no loss of quality.

What should I do if I don't have Dental Rinse or a toothbrush?

Gargle thoroughly with a little water or tea after eating or before bed. Carefully wiping teeth with a handkerchief or tissue is also effective.

Check your disaster kit every three months.
According to the Japan Anniversary Association's website, four days throughout the year are designated days for checking disaster-kit supplies: March 1, June 1, September 1 and December 1. Persistent ongoing efforts are vital for successful disaster readiness. They create knowledge and awareness of nature and disaster readiness, leading to effective disaster readiness.
Hints to ensure persistent ongoing disaster readiness efforts: (1) make them fun, (2) don't overdo it, and (3) do a little at a time.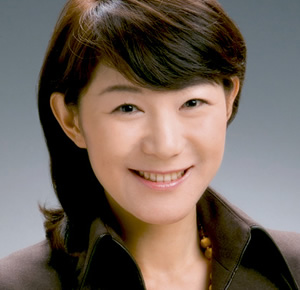 Editorial supervision:
Nobue Kunizaki,
Kiki Kanri Kyoiku Kenkyusho
Basic 38 items
- Required for every household.
Disaster kit item
Quantity
Note
(For one person)
(For two people)
1
Supplies for disaster onset
Flashlight
1
2
Have batteries on hand also if not solar powered or hand-cranked.
2
Portable radio
1
1
Have batteries on hand also if not solar powered or hand-cranked.
3
Goggles
1
2
*To protect the eyes from dust and glass shards.
4
Heavy-duty
or standard gloves
1
2
A cut-resistant type to protect the hands is recommended.
5
Smoke mask
1
2
To protect against toxic gas caused by fires.
6
Dust mask
1
2
To protect airways from dust and other particulates.
7
Helmet
1
2
To protect the head from flying and falling objects.
8
Daily living supplies
Drinking water
*
*
Store a 10-day supply

(2 liters per day × 10 days).

9
Food
*
*
Store a 10-day supply

(consider nutritional balance).

10
Multipurpose tool
1
1
A multifunctional tool

(with functions such as a bottle opener, can opener, screwdriver, punch, tweezers, scissors and saw)

11
Water bag
1
1
Handy for transporting supplied water.
12
Emergency toilets
*
*
Store a 10-day supply

(number of uses per day × 10 days).

13
Toilet paper
*
*
As much as needed for number of toilet uses

(remove spools for compact storage)

14
Adult paper diapers
1
1
One pack

(to prepare for lack of toilet facilities when leaving home)

15
Plastic bags
2
2
Handy for uses such as storage, garbage disposal and water transport.
16
Rain cape or poncho
1
2
Handy for rainy or cold weather, for toilet privacy, or as a changing screen.
17
Chemical heating pads
1
1
One box

(handy for warming food or bodies)

18
Survival blanket
1
1
Handy for rainy or cold weather, for toilet privacy, or as a changing screen.
19
Cash
*
*
About 30,000 yen in notes and change, for using public phones and making purchases.
20
Writing implement
1
2
Water-repellent paper and magic marker with oil-based ink
21
Lighter
1
1
22
Portable charger
1
1
Have batteries on hand also if not solar powered or hand-cranked.
23
Disaster relief supplies
Painkiller
1
2
Remember any required prescription medications.
24
Disinfectant
1
2
25
Sterile gauze
1
2
One pack
26
Cotton wool
1
2
One pack
27
Hemostasis pads
1
2
One pack
28
Bandage
1
2
29
Eye drops
1
2
30
Distilled water
1
2
Handy for washing out dirt coming in contact with the body.
31
Sling
1
2
32
Sanitary supplies
Underwear
1
2
Full set (top, bottom and socks)
33
Towel
1
2
Sports towel, bath towel, etc.
34
Wet wipes
1
2
Type enabling long-term storage.
35
Nail clippers
1
1
36
Deodorant/
antibacterial spray
1
1
For deodorizing/disinfecting the body. A type with high disinfecting power and low body impact is recommended.
37
Toothbrush
1
2
38
Dental Rinse
1
1
One bottle of about 500 ml. 10 ml per use.

*

The items in this checklist have been selected for use when living in a shelter. Quantities are designed to last several days, so storing everything in a portable disaster kit bag may not be possible. To ensure disaster readiness, check and stock the items regularly.
To ensure good oral care in the wake of a disaster
when water is likely to be scarce,
make sure your disaster kit contains Dental Rinse and toothbrushes.

Sunstar
Disaster Readiness
Oral Care Handbook
A handy download for your smartphone or other mobile device.
Use it for routine disaster readiness.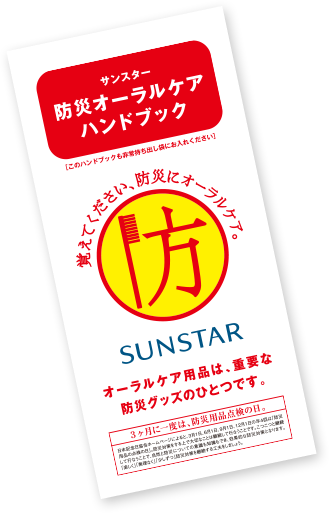 Educational poster on oral care during disasters is available for downloading.
*

Posters can only be sent within Japan.


Seminar on Post-disaster Oral Care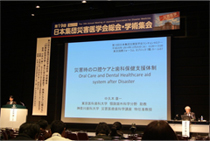 Assistant Professor Koichi Nakakuki of the Graduate School of Medical and Dental Sciences of Tokyo Medical and Dental University presented a lecture titled "Oral Care and Dental Healthcare aid system after Disaster" at the 19th Annual Meeting of Japanese Association for Disaster Medicine, which was held at the Tokyo International Forum, in Yurakucho, Tokyo. In his presentation, Assistant Professor Nakakui stressed the large number of elderly who die from aspiration pneumonia caused by the deterioration of hygiene conditions in the wake of a disaster and also emphasized the importance of coordination between various professions including dentists, dental hygienists, doctors, health nurses, nurses, pharmacists, and dietitians given that oral care to prevent pneumonia equates to healthcare to protect life.
(Chair: Professor Liohei Adachi, Kobe Tokiwa University, Department of Oral Health)